Bird Week on Christmas Island
31 August - 6 September 2006
Introduction
I joined Birds Australia and Birds Australia W.A. early in 2006 and saw an advertisement in Wingspan Magazine, a publication of Birds Australia supplied to members, for Bird Week on Christmas Island (map). It looked interesting and I pondered a while. Using the philosophy 'you are a long time dead', I eventually decided to 'just do it'. I thought that the travel was a bit expensive for just one week so I elected to stay another week and entertain myself using knowledge of the island gleaned from the first week.
I flew out of Perth at 11.45 a.m. (a very civilised hour) on Thursday 31st August, 2006, en route to Christmas Island via Learmonth. I had little idea what the coming week would bring.
The paperwork with which I was provided about the week including information about the rights and responsibilities of volunteers, Model Volunteer Agreement Form and Remote Area Medical Declaration, smacked of bureaucratic nannyism which normally only issues from bureaucrats and lawyers in big cities. I was pleased to find that it was not indicative of practices or attitudes on the island. In fact the reverse was true. One of the tonics of the Bird Week was that we were free to do or refrain from doing anything risky or, in fact, anything at all. It was nice to be accorded the status of master of your own destiny, in contrast with the irritating mollycoddling which has evolved elsewhere courtesy of tort lawyers and judges who lack any concept of an individual's responsibility for his or her own safety.
On arrival we were met at the airport and taken to our various lodges. Client volunteers drove hire cars (Toyota Rav 4s) which was quite a feature of the coming week.
This page and the following pages describe my impressions of the week. Please remember that the perceptions and opinions are mine so some things that thrilled me may leave others cold and vice versa.
Photographs on This Website
The copyright of all photographs on this website is mine unless otherwise indicated. You are free to take copies of and use for non-commercial purposes, any of my photographs on this site with a suitable acknowledgement (Ted Leech). For commercial purposes please contact me. The first picture on this page is not a thumbnail but most of the other photographs are. Click or double click on the thumbnail to bring a larger picture. Full resolution pictures may be sent by email on request.
Organisation of the Bird Week
The week was divided into 7 days. (Sometimes I astonish myself with my perspicacity.) Day 1. i.e. Friday 1st September, brought an introductory tour in the morning followed by a seabird identification workshop in the afternoon both of which were designed to whet the appetite for the week to come. The afternoon included a clamber up through the craggy rocks about the WWII gun emplacement. The last day was a free day with optional activities in the morning of a glass bottomed kayak tour or snorkelling, packing in the afternoon and departure in the evening. During the intervening five days the major activities were conducted. On all but the last day there was a picnic lunch (a roll or a wrap, a piece of cake and a drink) at various picturesque locations on the island. On the last day there was a voucher provided for lunch at either of two places. Dinner was provided each evening at one of a rotations of cafes, restaurants and taverns. The food style varied considerably; the quality only between good and excellent.
Arrival Day
Immediately on arrival it became obvious we were in a different world. Wheeling Frigatebirds of various hue were almost always in the sky at various heights. This was one of the first I snapped. I think it is a Great Frigatebird.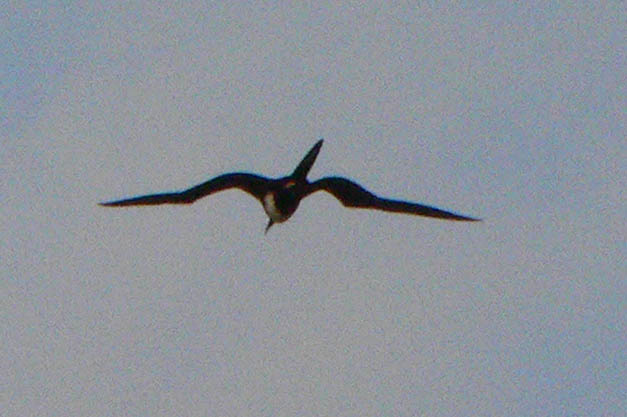 After settling into the motel, Gary, who had sat next to me on the aircraft and was also staying in the same lodge, said he was going for a drive. He had the keys to a hire car. Gary, his young son, Tim, and a delightful lady who was staying in the same lodge set off. Knowing nothing about the environs we chose a direction (East) and drove. We travelled less than a kilometre from the settlement before coming across a Red-footed Booby Roost.
We travelled on a few more hundred metres and stopped to have a look at what appeared to be a Chinese shrine or temple. As we stepped from the car we were introduced to our first Robber Crab known as Coconut Crabs elsewhere.
One of the major problems for the Robber Crab, from what I have been told, is that it tastes pretty good. It is also relatively slow growing and, as a result, its prevalence on most other islands in the Indian Ocean has been much reduced. However, it is also very expensive at $10,000 each; it is protected by Australian law.
When you bring up the larger picture you will notice a bottle behind the crab. One of the major blights on Christmas Island is the amount of litter scattered around, mostly in the form of discarded drink containers. More needs to be done to combat this problem such as publicity encouraging people not to litter (or, better still, to collect litter) and providing strategically placed litter bins. For an island whose future is largely eco-tourism, litter is an issue which must be addressed.
Nearby, our attention was drawn to some Brown Boobies. There were no complaints about the surroundings of these birds. To my surprise, one of the Boobies allowed me to get within a couple of metres. I expected them to be quite shy but I was quite wrong on that score. This lack of shyness was consistent with my later experience on the island. These birds are so cute it is difficult not to describe them as lovable.
On our return trip we came across an Christmas Island Thrush. I took some photographs of it but I took a better shot later in the week so it is not included here.
We returned to the settlement and adjourned to the tavern for a few icy cold cleansing ales prior to dinner.
Dinner on the first (arrival) night was by voucher to the value of $25 at the Golden Bosun Tavern, the same place where breakfast was provided on all but the last morning. The cuisine there was, IMHO (in my humble opinion), superb. The fish was local wahoo but I could not go past the Lobster Thermidor which was $32 so I paid the extra $7.00. The chef, Don, an affable and colourful character, was to prove himself a master of the gastronomic delight at that dinner and for many meals afterwards. Following dinner, the various team leaders introduced themselves. We clients were divided into 5 groups in order that we could do a different activity each day with each of the team leaders each of whom was an expert in some way.
<Day 1> <Day 2> <Day 3> <Day 4> <Day 5> <Day 6> <Day 7>
<Home>